Gift Certificates Available!
Contact us for details.
MUST PRESENT COUPON
PRIOR TO SERVICE.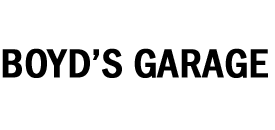 Auto Repair Coupons, Rebates & Offers


Check our coupons page and follow our tips below to help you save money on the cost of car repairs and maintenance.
Schedule a regular oil change at Boyd's Garage in Woodbury. It is the key to easy car maintenance and eliminating expensive engine repairs down the road.
Pay attention to the "service light" warnings on your dashboard. Responding quickly to a service light is often easy and affordable but ignoring a service light can greatly increase the cost of future car repairs.
Get to know your owner's manual. It is time well spent. The owner's manual contains valuable tips for keeping the cost of car maintenance and service affordable.
Discuss the details of needed auto repairs with your mechanic.
Call Boyd's Garage in Woodbury at 615-563-5171 for Coupons, Rebates, and Offers and keep your auto repair costs low!
Testimonials
Laurie Tyrie

, 10/04/2023
I took my BMW to Boyd's last week for an oil change and checkup since it's pushing 16 years old and a lot of miles. Being new to the area, I took the advice of another satisfied customer and gave Mr. Boyd a call. Wow, Mr. and Mrs. Boyd are such wonderful people. Not only did I leave there feeling confident that my car was taken care of, but had a delightful conversation with the Boyd's. I called my son, who is also new to the area, and told him we have found ourselves a great, trustworthy mechanic. And the price for the work and time was better value than I've ever found anywhere else. My son needs an alignment so will be giving you a call soon! Thank you so much!
view all reviews